You probably know an outdated website when you see it. What is the first thing that comes to mind if you come across one? Does it make you wonder if the business is reliable? Do you wonder if the company represented is still in business?
We frequently see websites that look like they were built in the 1990s even if they are only five years old. But what makes an outdated website look outdated? More importantly, does your site look outdated?
These are some Simple Ways to Tell If You Have an Outdated Website
#1: Does your site look good on your mobile device?
This should be the very first thing you ask. If your site isn't mobile responsive, then it's time for a new one. Unfortunately, there's no easy way around this.
About three years ago, Google officially told us that mobile is king when it comes to search results. Even more recently, Google has been giving strong preference to mobile responsive sites–purposely downgrading sites that aren't. The reason for this is clear: If Google stops giving relevant results, people will stop using Google. In order to have a hope of having your website found, you must have a mobile responsive website.
Beyond search results, a mobile responsive website contributes to a more positive user experience. Websites that cater to mobile users have higher retention rates and convert more visitors.
#2: Is your website integrated with your social media platforms?
The most frequently-visited websites are social media sites.   When you connect your site to these social media channels—by embedding them into your site or linking to them—you're expanding your reach beyond a basic web search. An outdated website lacks this simple feature.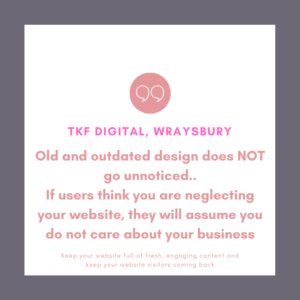 #3: Are you using Flash?
Flash was created to give websites visual punch. With animation, unique interfaces, and a general "wow" factor, Flash used to be the way to go. Unfortunately, Flash is now considered obsolete in terms of design and function. With new changes to CSS and HTML coding, Flash has become completely unnecessary. Even worse, most mobile devices ignore it. Flash also increases the amount of time it takes for a website to load. This lowers your search rankings and provides a poor user experience.
#4: Does your content and navigation plan still make sense?
Over the past few years, you've probably added and deleted pages on your website. Maybe your business model shifted. Maybe old employees left and new ones joined your team. Over time, edits like these can wreak havoc on your site's navigation. If there's only one option in a menu drop-down, you don't need that drop-down. Find a friend who hasn't used your site in a while to take a critical look at your overall content and navigation. If they can't find what you're expecting them to find quickly and easily, neither can new visitors. It's probably time to take it all down and sort it all out..
With websites, however, keeping things up to date isn't just a matter of personal taste. Being outdated can actually harm your bottom line. So how can you tell you have an outdated website before it starts hurting your business?  Take an unbiased look at your own site and see if it might be time for a website redesign.